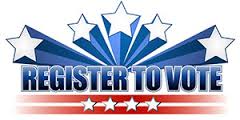 There are many opportunities and options for you to register to vote.  You may register to vote at the Office of the County Clerk, many banks, libraries, the Department of Motor Vehicles and municipalities in DeKalb County.  For information on the Deputy Registrar nearest you, please contact our office at 815-895-7147.
You mail also register online with the Paperless Online Voter Application process, on the State Board of Elections Website:  Click Here
Voter Registration is quick and easy.  Click any of the links below for further information: 
Qualifications to Register to Vote
 How, Where and When to Register
How do I Know if I'm Already Registered?
To obtain a voter registration form that you may mail in:
 Mail In Voter Registration Application  

**** If you have missed the Voter Registration deadline, please see our Grace Period Registration tab for more information.