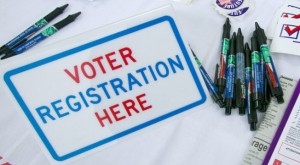 Deputy Registrar training takes place the 3rd Wednesday of every month at 3:00pm, until 2 months before an Election.
Please contact the Elections office to make arrangements to attend the training session.  A 48 hour notice is required to prepare for the session.
Contact Lynne Kunde at lkunde@dekalbcounty.org.  or 815-895-7183
Deputy Registrars provide an important service to the electoral process for our community throughout the year.  They must be a registered voter in DeKalb County, trained and certified through the DeKalb County Clerk's office, Elections Division.  Once trained, a Registrar may register any Illinois resident, who qualifies to vote.  A Deputy Registrar may not engage in any form of electioneering while registering voters; this includes, but is not limited to, working for or against a proposition, candidate or party.
The following may be appointed as Deputy Registrars, upon written request to the Election's office: chief librarian, school principal, labor organization members, bona fide state civic organization members, healthcare directors, family service agency directors, employment security director, and/or their designees.
All elected and appointed Municipal, Township and Road District Clerks, Precinct Committeepersons or their designees are automatically eligible to become Deputy Registrars.
Please see the following links for further information: